HCl, SOx, and so on, which are included in the gas from garbage incinerators, are efficiently absorbed with alkaline fluid.
In order to eliminate white smog, there is function for humidity reduction with cooling water. Not only for garbage incineration but also for various kinds of gas treatment, this system has been adopted and acquired clients' satisfaction.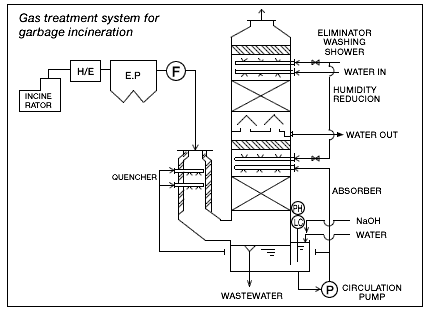 (Process)
This system consists of quencher, absorber and humidity reduction room. Gas, from incinerator, is cooled down and pre-absorbed in quencher. Then, in absorber, gas is almost fully absorbed. Gas is discharged, after reducing its humidity and temperature in the upper part of tower. Absorption and humidity reduction are done in the same tower, therefore you can save your place to install.
(Type)
Spray tower / Semi scrubber
(Efficiency)
HCl removal rate : more than 98%
SO2 removal rate : more than 98%